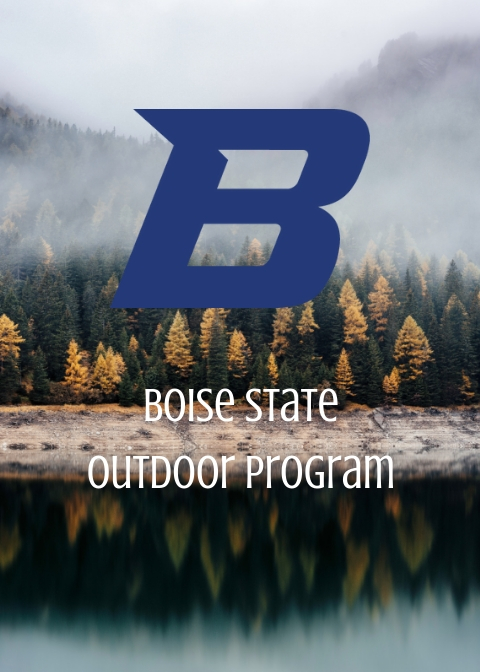 Boise State University continually offers students a myriad of ways to get involved with the campus community, make meaningful connections with the world around them and to push boundaries in pursuit of excellence in the areas of academics, leadership, health and of course, play. The Boise State Campus Recreation Center is no exception to that notion.
According to the Boise State rental center located inside of the Rec, the university's outdoor trip program has been around since its founding in the year 1984. The program has been largely successful in its endeavors of holding a variety of annual trips and clinics for students to participate in.
The Outdoor Program facilitates incredible, once-in-a-lifetime experiences for students with affordable hiking, climbing and backpacking trips planned throughout the semester. The multitude of trips offered allow for flexibility depending on student's schedule and budget.
"I feel like the program is underused because people think they have to be super outdoorsy to come and hangout with us; there is no experience required," said Katie Hampton who is an active member in the program. "It's also really inexpensive compared to having to buy your own equipment because everything is included with your Rec membership."
Katie Hampton is a sophomore in the Communications department and a recent member of the program. Hampton began her involvement with the recreation center as a climbing gym attendant and is currently on her way to becoming a trip leader for the spring semester of 2019. Hampton said that the Outdoor Program holds scouting trips for staff members to scope out new locations and make sure they will be safe to bring students to for official trips down the line.
Katie Hampton also commented on the backgrounds of other individuals involved in the program. "I feel like at the OP here they try to have a fair representation of the whole campus and not just outdoor recreation and environmental science majors," said Hampton. "Its more accessible than people think."
Early in the Fall semester of 2018, Rodo Leone assistant director of campus recreation met with the entire Recreation Center staff and addressed their goals for the year. One student staff member that stood out to Leone was junior trip leader, Ashlyn Molino. "She is one of our stars in the program," said Leone. Molino has made great bounds of professional progress in the program and is excited to share her experience with newcomers.
Molino said that she has benefitted tremendously from her involvement with Boise State's Outdoor Program and encourages others to join the collaborative, energetic team. "I think anybody can take something from [the program] even if it is completely different than what I took from it," said Molino who is a Visual Arts Major. "Our whole goal is building community and I think that in any way you get involved with the program just the Rec Center as a whole, you're going to be a part of that community."
Members of the Outdoor Program on campus are encouraged to learn skills that not only are useful in the outdoors but are transferrable for the workplace. "It's not just about learning technical skills and how to run a successful camping trip, it's mostly about learning how to work with people, be an active group member and facilitate an experience for others," said Molino. "The biggest thing we learn is just how to interact and how to be a healthy, active, contributing group member."